Welcome to EPS. The world of special events is a fast paced, often crazy business that we hope you'll enjoy as much as we do. The government requires you to fill out several forms, and us to see certain documents before we can hire you. We promise to make this a quick and painless as we can.
Staffing is handled by four different EPS units. The Resources Unit sets the schedule based on the needs of the event. The Staffing Unit, led by Lisa Brown fills the shifts with people. Next is the Time Keeping Unit which handles day of event activities such as time keeping, and coat and radio distribution. Placement is the last unit and this season is being performed by the area supervisors.
Shifts are filled by seniority, and by job skills. Preference is given to those workers who use the EPS on-line scheduling system.
Schedule Changes Sometimes the needs of the event require us to change already confirmed shifts. We will give you at least 24 hours notice of any shift changes. You will be paid for the shift if we cancel it less than 24 hours before the scheduled start of the confirmed shift.
The "Robert Reetz Rule": You must be on time for every call. For those distant events that require some driving time, you must leave yourself enough time to have 2 flat tires and still be on time for your scheduled call.
Be There! Many of our events have relatively small teams, and each scheduled person is important. You must give EPS 24 hours notice if you will not be able to fill a shift you have already confirmed. If you do not show up for a scheduled shift that you have already confirmed, we will not hire you for other events. There is no grace period for no-shows.
Arrive early at the job site to have time to park, etc., be properly attired, and be ready with tool or whatever in hand at your scheduled start time. You can sign in up to 15 minutes before the scheduled start of your shift. We work in teams. Arriving late or starting early on your own disrupts the team.
Bring ID. If you have not worked for EPS before, we will need to see your ID as specified on DHS form I-9. If possible, complete your paperwork before you arrive. Otherwise, plan to arrive 30 min. prior to your scheduled start time to fill out your paperwork.
Venue Access Some of our event venues have strict security policies. Government issued ID may be required to enter a venue, and you may need to wear your ID in such a way that it shows at all times. Weapons are not permitted on your person nor in your vehicle; leave them at home. Tools are permitted if required for your job. Persons and vehicles are subject to search at many venues.
Safety First Safety is your first priority in doing your job effectively.
No Smoking Smoking is not permitted on EPS controlled venues. SF Police Code Article 1, Sec 55 cites it is unlawful to smoke, carry or possess a lighted cigar, cigarette, or pipe, or to smoke tobacco or any other similar substance in any form, or to ignite any match or mechanical lighter on or in any wharf, pier, dock bulkhead, or marine facility. SF Health Code Article 19N states that the use of electronic cigarettes is prohibited wherever smoking of tobacco products is prohibited by law.
Communications between venues. Primary means of communications on site shall be the EPS radio system. Personal cellular phones are not to be used to communicate between EPS workers on the same site discussing EPS business unless the EPS system is not in use. If cell phones are used, then the basics of the conversation are to be included in your daily log sheet.
Personal cellular phones are not to be used for personal business while signed in, except during 15 minute breaks and meal breaks. If there is an emergency, handle the emergency and notify your supervisor as soon as possible.
Text messages shall not be used to communicate between EPS workers on the same site, unless the EPS system is not in use. If text messages are used, then "EPS" must be copied on the messages. Personal text messages are not to be sent nor read while signed in, except during 15 minute breaks and meal breaks. If there is an emergency, handle the emergency and notify your supervisor as soon as possible.
Social Media Policy Workers are legally liable for anything written or presented online. Workers can be disciplined for commentary, content or images that are defamatory, pornographic, proprietary, harassing, libelous, reveal security equipment or procedures, or that can create a hostile work environment.
Workers may not share information that is confidential and proprietary about the workplace, event or EPS. This includes information about upcoming events, number of workers, and any other information that has not been publicly released by the event or EPS. These are examples only and do not cover the range of what is considered confidential and/or proprietary.
If you have any question about whether information has been released publicly or doubts of any kind, speak with your supervisor or the Staffing Unit. You may also want to be aware of the points made in the non-disclosure agreement you signed when you signed on to work with EPS.
Workers shall not post photos taken from non public areas at any time. If you can see it from the sidewalk, then you can post it. Workers shall not post photos of the security personnel or ECP installation, even when taken from a public area.
Unless it is specifically part of the worker's job description, workers shall not post anything, using any form of social media, while on the clock.
Workers may post regarding their experience working at EPS:
OK: "had a great (long, awesome, terrible, exhausting) day at work today."

NOT OK: "the motorcade took forever to arrive so they could decommission the ship, but it was great to be a part of the event."
Workers shall not post, using any form of social media, about event security, operations or logistics using information that is not available to anyone passing on the street.
OK (assuming you are on your own time): "The line to get in is really long."

NOT OK: "They are having trouble with the magnetometers, it is taking forever to get in."

Timecard labels get you paid. Fill out your own timecard label at the beginning and end of each shift. Additionally, an EPS timekeeper must log your hours using the EPS system. Your timecard label must be filled in by you and no one else. Your supervisor will approve your weekly hours report at the end of the week, and forward it to Payroll.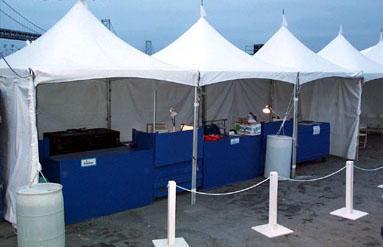 Overtime requires written approval. If your scheduled shift does not include overtime, you must have written approval from Andy or Michelle before you may work over 10 hours in a workday. Overtime Policy
Reliefs and Meal Breaks On an 8 hour shift you will receive two 15 minute paid relief breaks and an unpaid meal break. The length of your meal break is preset. You may not shorten your scheduled meal break, either to leave early or to work more hours.
Guaranteed Minimum The guaranteed minimum for most shifts is 4 hours. A shift may end earlier or later than the printed time.
Paychecks are mailed on Thursdays. Our pay period is Friday through Thursday. Checks will be in the mail by the following Thursday. Checks are mailed to the address you provide on form W-4.
Paycheck pickup is only available under special circumstances, and if approved, arrangements must be made by 5 pm Monday. You may then pick up your check between 1pm and 4pm on payday. Checks not picked up by 4pm will be mailed. Be prepared to show photo ID to collect your check.
Location, Location, Location Also, many Thursdays we (including the office) are on the road, so check where we are before you show up. If someone else is picking up your paycheck, we need to know in advance and you must give written and signed permission.
Payroll Issues If you discover a discrepancy in your paycheck, contact the staffing unit by email for resolution. Please be specific about the problem, i.e. " I signed out 5pm on Friday, September 2, but was only paid until 3pm. " Staffing will forward your issue to timekeeping for resolution. Replies from staffing will be via email only.
W4 Form If you move before the end of the year, please send us an new, signed W-4.
One last thing: This is a drug-free, alcohol-free workplace. If you are under the influence while on the job, you will be suspended.
Thank you for helping us make this a safe and successful event.
Welcome aboard,
Andy, Michelle & Company